Work in Progress
This article is currently being created or worked on, and should be finished within the next few days. Please do not add any sections or make any major edits. You may fix small errors if you encounter them, but always expect the finished article to be at least a little different from the one you're looking at. Thank you for your patience.

Treasure
encompasses a set of tangible rewards for vanquishing the various
Encounter Zones
, or "Lairs", which are scattered throughout
Arcanus
and
Myrror
. To obtain its
Treasure
, the Wizard's forces need to annihilate all of the guardians at the Lair, with at least one unit surviving the Encounter to claim victory and loot the place.
The general usefulness of a Treasure hoard tends to match the strength of its guardians closely. The stronger the creatures inhabiting the Encounter Zone, the better the Treasure. Some rewards are practically impossible to acquire from any other source: items that the Wizard could not otherwise craft, spells they could not otherwise Research, and even wholesale escalation of their power in the form of Spellbooks and Retorts.
Description
Edit
Treasure hoards accumulate in dangerous nooks of Arcanus and Myrror for any number of dubious reasons. Some treasure is simply strewn about the location of a monster lair, left there by former occupants or long-digested intruders. Intelligent creatures may be amassing valuable objects intentionally, for reasons befitting their nature or mission on this plane.
Sites of spiritual or scientific interest, such as temples, towers of wizardry, and magic nodes, are likely to harbor treasure in the form of theories and secrets. These are extremely tempting objectives to any Wizard, but accessible only to those who can overcome their mighty guardians and warding systems.
How Treasure is Generated
Edit
Note: The following section contains some information from the Official Strategy Guide which may not be accurate in their entirety. Until this article is reworked, more detailed and up-to-date explanations are available in the Treasure section of the article on Encounter Zones instead.
Treasure Types Determined at Worldgen
Object
Distribution
Magical Item
5 in 15
Spell
3 in 15
10 - 200  

Gold Pieces

2 in 15
10 - 200  

Mana Crystals

2 in 15
Spellbook or Retort
2 in 15
Prisoner
1 in 15
When a game begins, the program assigns each Lair a point budget analogous to

 Mana Crystals. It spends these points by rolling imaginary 15-sided dice (d15) to select the basic types of objects found in its Treasure Hoard. The program only determines particulars about these objects at the moment a Wizard wins the encounter. If you reload the session and fight the encounter repeatedly, you will obtain the same kind of Treasure every time, but exactly which spell, item, prisoner, or special you find will vary.
A priori, the point budget for Treasure is determined by:
The game's Difficulty setting.
Whether this was a Weak, Normal, or Strong lair.
The Plane on which this lair is located.
Random chance.
A posteriori, the budget is tied to the strength of the guardians. It will be a random roll of either 50-125% (Arcanus) or 75-175% (Myrror) of the budget used to generate the garrison; this is increased by 25% on the "Impossible" difficulty setting, and has a minimum floor-value of 50.
Treasure points conform to ranges given in the table below.
Treasure Points -

Arcanus

&

Myrror

Encounter Zone
Difficulty Setting
Intro
Easy
Normal
Hard
Impossible
Tower of Wizardry
200 - 1,500
210 - 1,500
203 - 1,500
222 - 1,500
222 - 1,875
Weak Lair
Arcanus
50 - 50
50 - 75
50 - 116
50 - 125
50 - 150
Myrror
50 - 210
50 - 350
50 - 350
50 - 350
50 - 437
Normal Lair
Arcanus
50 - 1,750
50 - 1,875
50 - 1,832
50 - 1,875
50 - 2,293
Myrror
50 - 4,200
76 - 4,375
70 - 4,280
91 - 4,280
129 - 5,355
Node, Weak
Magic Setting
Arcanus
50 - 850
50 - 900
50 - 916
50 - 937
50 - 1,137
Myrror
50 - 5,250
106 - 5,040
121 - 5,250
106 - 5,250
152 - 6,405
Node, Normal
Magic Setting
Arcanus
50 - 1,800
50 - 1,875
50 - 1,875
50 - 1,800
50 - 2,293
Myrror
212 - 10,080
212 - 10,500
222 - 10,500
231 - 10,500
231 - 12,775
Node, Powerful
Magic Setting
Arcanus
50 - 2,750
50 - 2,812
50 - 2,750
60 - 2,812
67 - 3,500
Myrror
364 - 15,750
334 - 15,750
308 - 15,165
351 - 14,700
425 - 14,700
During map generation, the basic routine by which the program spends the lairs' Treasure budgets is as follows:
Verify that there are at least 50 treasure points remaining; if not, break this loop (terminate).
Roll d15 to select an object to add.
Check if the remaining budget meets the object's Qualify value; if not, reroll (step 2).
Throw a Qualified item onto the pile, and deduct its Spend value from the budget.
Loop back to step 1.
Qualifying for objects and Spending the treasure points - : To throw objects into the pile of Treasure, the remaining treasure points must meet or exceed the value given in the Qualify column in the chart below; otherwise, nothing is spent and the imaginary d15 is recast (Chance column) to find something cheaper. The Spend column denotes how many treasure points are then spent to add the object. Unlike Qualifying, the Spend value is permitted to exceed the remaining budget. And at that time, or whenever there are less than 50 treasure points remaining, the procedure terminates.
The Unofficial Patch 1.50 simplifies this process by aligning (most of) the Qualify and Spend values to be the same, represented as a unified Cost column in the table. The sole exception is Magical Items, for which the previous versions' Qualify requirement of 300 still applies.
Treasure Types: Chance, Qualify, Spend, and Cost:
v1.31 / v1.40
Treasure
v1.50+
"Qualify"
"Spend"
Chance
Type
Max
Chance
"Cost"
10 (1)
200
2 in 15
 

Gold Coins

-
3 in 15
50 - 1000
10 (1)
200
2 in 15
 

Mana Crystals

-
3 in 15
40 (1) - 800
300
400 (2) - 3,000
5 in 15
Magical Item
3
3 in 15
200 (3) - 5,100
400
1,000
1 in 15
Prisoner Hero
1
1 in 15
400
3 in 15
Spell
1 (4)
4 in 15
50
50
Common Spell
150
200
200
Uncommon Spell
600
450
450
Rare Spell
1,350
800
800
Very Rare Spell
2,400
1,000
all
remaining
2 in 15
Special
(Spellbook / Retort)
1 (4) (5)
1 (6) in 15
800
(1) :
The 50-point minimum to generate any kind of Treasure still applies.
(2) :
If the remaining budget is lower than 400, the amount spent can be reduced below this.
(3) :
Magical Items still require 300 points remaining to be added to a hoard even in v1.50.
(4) :
Spell and Specials are mutually exclusive.
(5) :
Specials may only be added once, but the amount of picks added (up to 2) depends on the remaining budget.
(6) :
There is a further 45% chance that this Treasure type is rerolled regardless of remaining budget.
The following sections cover details on how Master of Magic handles each type of object in Treasure. They make frequent references to qualifying and spending points in the above chart.
Gold and Mana
Edit

A pile of

 Gold or

 Mana Crystals could randomly be added to the Treasure Hoard whenever it has 50 or more points left to allocate. There is normally a 2-in-15 chance of selecting each, but this can rise to a near-certainty if the Lair simply doesn't have enough treasure points left to Qualify for more expensive objects. It is possible to find multiple piles of between 10 and 200 of either one. The amounts of gold and mana found in Lairs are all determined when the map is generated, and will not change.
A maximum of one Spell will appear in Treasure. The rarity of the spell is determined during the world generation process before the game begins, but the realm of the spell, and the exact spell that appears, is only determined when a Wizard pops the Lair.
When a Spell is rolled by the d15 during map generation (a 3-in-15 chance with each iteration as described in the How Treasure is Generated section above), the program makes a special die roll, this time a d4, to set the spell at one of the four levels of Rarity: Common, Uncommon, Rare, or Very Rare. If the lair does not Qualify, based on its remaining budget for loot, for a spell of the magnitude obtained, or a Very Rare spell is already part of the hoard, then the roll is discarded, no points are spent, and the program returns to rolling d15's for other items.
If the Spell roll does qualify, then its Spend value gets deducted from the lair's remaining loot budget. If there is already a spell in the loot pile, the new one's rarity value (1, 2, 3, or 4) gets added to what's already in there and results in a higher-level spell.
Resolving Spells Found
Edit
With one Spellbook in the chosen color, the Wizard will obtain, at best, an unknown Common or Uncommon spell of that school; Rare spells are possible with two books; and Very Rare for having at least three books. It is possible to obtain any Arcane spell at any time except for Summon Champion and the Spell of Mastery. These are never awarded.
If the wizard already has all spells of the rarity and realm specified by the lair, the game will first attempt to reward a lower level spell, or failing that, a higher level spell, of the same realm. It's therefore possible to find a Very Rare spell in a place meant to yield a Common one, and vice versa, simply depending on the circumstances.
Towers of Wizardry
Edit
A Tower of Wizardry is an ancient stronghold of magical research and will always yield a spell when captured. During map generation, the first item of treasure rolled by the d15 at these sites will always be a spell, and the Spend value of adding it to the Treasure Hoard is discounted by 100 points.
A Prisoner
Edit
A single Prisoner might be held at a Lair, and is a highly unusual find. This individual will be one of the 24 non-champion Heroes in the game, drawn at random from those who are not already in active service or resting in peace. These captive V.I.P.s will offer to join the liberating Wizard at zero hiring fee, and in total disregard of their normal

Fame requirements, out of gratitude for being rescued.
This is essentially a Summon Hero Spell cast at the location of the Encounter Zone upon victory. Exactly which Hero appears in the lair is determined at the moment of victory. If hired, the hero will be ready to deploy immediately. A Lair needs at least 400 treasure points to Qualify for adding a Prisoner to its hoard, and it will Spend 1000 points to add it, quite likely exhausting its budget.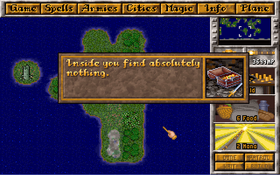 Failed Prisoners
Edit
Be warned that if the army which captures and occupies the prison lair's tile is nine units deep, or you already have a full compliment of six heroes in your service, the prisoner will fail to show up. You won't even be informed that you missed the opportunity. Most unfortunately of all, Absolutely Nothing appears in place of a prisoner.
Specials
Edit
When a Wizard Special is rolled (2-in-15 chance), and the budget has the necessary 1000 points to Qualify adding this type of loot, the game immediately discards all of the other treasure, and replaces it with one or two Spellbooks and/or Retorts. Exactly which Specials appear is only determined at the moment of victory. These assets will be added to the Wizard's profile and begin taking effect that turn.
About three-quarters of Specials found will be Spellbooks. Their color depends on the lair. Retorts are not subject to any limitations, save that Myrran will never appear.
Any extremely strong Lair could harbor a Spellbook or Retort, and they are considered the ultimate possible rewards in Treasure. The Qualify values needed are 1000 treasure points for one pick, and 2000 points for two. While the Spend value is 3000 in either case, this is irrelevant, for there can be no other treasure once the dice land upon a Special.
Myrran Nodes on high difficulty settings are the best source of Specials. Working from their massive budgets, these nodes make reams of die rolls for adding various objects to the hoard, and chances are they will eventually acquire one. Spellbooks of

Life and

Death do not appear in Nodes, so your prospects on obtaining these during the course of a game are less certain.
Failed Specials
Edit
Certain restrictions apply when finding Specials, and they may be replaced with an Artifact (next section) or not be awarded at all in some cases.
If the treasure fails to award any of its Specials, a single Artifact appears. This happens when a Wizard has a full profile of 13 books and 6 retorts, and/or when the Special(s) offered by the lair end up consisting entirely of Life or Death books opposing the wizard.
If the treasure is 2 Specials, and exactly one of these ends up being a forbidden Life or Death book, then that Special is wastefully discarded and no artifact appears in its place. Only the remaining, valid Special appears.
If the Wizard has 13 books, but fewer than 6 retorts, the default 25% chance of a retort appearing goes up to 100%.
If the Wizard has 6 retorts, but fewer than 13 books, the default 75% chance of a book appearing goes up to 100%, but the above caveats on Life and Death books still apply.
The two-pick retorts (Warlord, Channeler, Divine, Infernal, Famous) do not fail on account of a Wizard having 5 retorts. They are awarded, as normal, if the loot pile holds 2 specials and happens to roll them.
Artifacts
Edit
Magic Items frequently occur as part of the normal loot in a lair. Artifact is a term often used for a peculiar case: the item awarded in place of a "failed special." Although the Official Strategy Guide claims that this sort of item could be any one of the 250 prefabricated magic items in the game, with no limitations on its potential strength, this is not the case.
In fact, all restrictions dealt with in the next section on Magical Items apply here, and moreover, the Artifact is limited to a narrow mana cost range of  

600 - 1,200

. While this prevents a "failed special" from being atrocious, it also prevents it from being of real use to a Wizard who already has 13 books, 6 retorts, and enough military muscle to defeat the sort of monsters who typically guard Specials. If you suspect you were given a / rank and failed to receive it, you may want to reload the game prior to battle and try for a different reward.
Magical Items
Edit
During map generation, the game has a 5-in-15 chance of rolling Magical Items as it stocks an Encounter Zone. Items are therefore a common occurrence whenever the lair's budget can meet their Qualify value of 300 points. Up to three Items can be added to a single Treasure Hoard.
Current best-guesswork suggests that when Magical Items are added, a random number from their Spend range of 400-3000 may be deducted from the Treasure point budget, but that this number definitely has no influence at all on what Item eventually appears. In version 1.31 of Master of Magic, the Item found is determined the instant a Wizard conquers the lair. If you reload the game and fight the battle all over again, your finds will be rerolled.
The last sections group Items together under specific terms as they apply to Treasure. There is a large set of premade items that can appear within Treasure for any Wizard who captures a lair with an item in it. Those aside, most premade items demand that the Wizard have certain Books in his profile. Finally, there is a small set of items that have impossibly-large spellbook requirements, and will never be awarded in Treasure under any circumstances.
Spellbook Requirements
Edit
Most of the 250 premade items in the game require the Wizard to possess an arbitrary number of Spellbooks in arbitrary realms before they can possibly turn up in a treasure pile. It does not make much sense, but if a Wizard does not have the spellbooks required by an item in the database, then he simply cannot find it in Lairs; his only chance of acquiring it might be from a Merchant.
Stat bonuses listed for an item, such as "+4 Attack" or "-4 Spell Save", do not cause the item to require spellbooks. But if it has properties associated with a realm, such as Resist Elements, Phantasmal, Righteousness, etc., it may require spellbooks, but not in the correct color. The result is a situation where some players will have access to exotic items with powers they couldn't enchant on their own, and others (mainly Death and Nature wizards) will get a rather inferior pool of random items in their loot.
The technical reason for this is a systemic problem with the game file ITEMDATA.LBX, or a problem with how the game reads it. ITEMDATA stores a book requirement (such as "2") to match the 1st, 2nd, 3rd, or 4th property for the item. But the game interprets this positioning as the required realm, instead; 1st is Nature Books, 2nd Sorcery, 3rd Chaos, 4th Life. To give an example:
Living Bow

Living Bow has two properties.  

+1 Attack

is the 1st property and requires no books; Elemental Armor is the 2nd property and requires four books; accordingly, the game interprets this to mean the item demands

0

4

to be found.
Aside from spell rank requirements, the game is completely indiscriminate with item types, specs, and mana values when it awards items in Treasure. The uncared-for

 300 "Axe of Uncaring" has the same probability of appearing as the insanely-expensive

 9,100 "Theodores Liberator", or, provided you have

6, the unquestionably-useful

 2,650 "Helm of Trollish Might." The strength of the lair does not matter.
In all, the technical problems generated these trends:
Requirements tend to be dominated by

Chaos

and

Life

ranks; the realm-specific Item Powers are usually the 3rd and 4th abilities listed, corresponding to these realms' index numbers.
No

Death Spellbooks

are required for finding any item— not even the ones with Death Realm powers, since that would require there being five properties on the item.
Spell Charges and Flaming apparently do not generate rank requirements.
List of Generally-Available Items
Edit
The table below lists the 91 premade items that always have a chance of turning up in a Lair, ranked according to the  

Mana

value of their powers.
Magic Items That Do Not Require Spellbooks to Find
Jewelry
Item
Attributes
Powers
150
Elven Ring of Health
 

1

 

1

350
Amulet of Battle
 

2

 

2

1

400
Amulet of Lesser Shielding    
 

1

1

 

2

-1

550
Orions Belt
 

2

 

2

2

 

2

550
Ring of Power
 

2

1

 

2

 

5

600
Pin of Health
 

1

 

1

 

1

 

1

700
Ehr Rhee
 

1

 

1

1

 

2

950
Cloak of Armor
 

2

2

 

3

-3

1000
Gauntlet of Eastwood
 

2

 

1

 

1

 

10

1950
Bracer of Mrad
 

4

 

4

3

 

6

Armor
Item
Attributes
Powers
150
Zir Daun
 

1

200
Shield of Demos
 

1

 

1

250
Chain Mail of Defense
 

1

1

300
Chain of Magical Health
 

1

1

 

1

300
Elvish Scalemail
 

1

1

 

1

300
Mail of Arcanus
 

1

1

 

1

300
Shield of the Fool
 

1

1

 

1

400
Chain Mail of Resistance
 

2

 

3

400
Plate Mail of Defense
 

1

 

1

400
Shield of Evasion
 

1

2

 

1

500
Champions Platemail
 

1

1

 

1

500
Light Mail Shirt
 

3

 

3

500
Morthogs Chainmail
 

2

2

 

2

600
Chain Mail of Movement
 

2

3

600
Shield of Eros
 

3

1

 

3

600
Shield of Speed
 

2

3

650
Chain of Tyrolia
 

4

1

 

2

700
Plate Mail of Resistance
 

1

 

4

700
Plate of Eandor
 

3

1

 

2

850
Chain Mail of Balance
 

4

2

 

3

850
Vans Shield
 

3

2

 

4

900
Mithril Chainmail
 

3

3

 

3

950
Plate Mail of Movement
 

3

3

 

1

1050
Shield of Quatis
 

4

3

 

3

1200
Plate Mail of Diversity
 

4

2

 

4

1850
Shield of Brooke
 

5

3

 

6

1900
The Resistor
 

3

4

 

6

2500
Disc of Advancement
 

6

4

 

6

Melee Weapons
Item
Attributes
Powers
150
Axe of Severe Pain
 

1

200
Cannes Mace
 

1

 

1

200
Sword of Cannae
 

1

 

1

200
Sword of Mallana
 

1

 

1

300
The Axe of Uncaring
 

3

500
Dragon Slayer
 

2

Flaming
550
Flaming Sword of Death
 

1

 

2

Flaming
550
Pummel Mace
 

1

 

1

600
Idspispopd
 

1

 

1

 

1

700
Joshuas Sword
 

2

 

1

 

2

700
The Beheader
 

3

 

1

750
Flaming Axe
 

4

Flaming
800
Bane Blade
 

1

 

1

 

1

 

5

850
Axe of Vivisection
 

4

 

1

850
Mauler
 

4

 

1

900
Hacker
 

6

1000
Irons Mace
 

1

 

2

 

1

1100
Skull Smasher
 

3

 

2

1150
Peppermace of Gates
 

3

 

2

 

1

1600
Intimidator
 

1

 

3

 

1

 

5

1700
Axe of the Caster
 

10

High Prayer x1
1700
Executioners Friend
 

6

 

2

1700
Jans Hammer
 

4

 

3

 

1

1700
The Inquisition
 

4

 

3

 

1

1700
The Revenge of Orculs
 

3

 

3

 

3

1750
Double Axe of Pain
 

4

 

2

 

5

Flaming
Bows
Item
Attributes
Powers
500
The Scarlet Bow
 

3

 

3

650
Uhl Dover
 

1

 

1

 

2

900
Crossbow of Power
 

6

900
The Regulator
 

4

 

1

 

1

1050
The Archer
 

2

 

2

 

1

1350
The Telecaster
 

4

 

2

 

2

1400
Hells Bolt
 

2

 

2

 

2

Flaming
1400
The Deathstorm
 

1

 

2

 

1

 

10

2150
Bow of The Dervish
 

6

 

3

 

1

Magic Rods
Item
Attributes
Powers
250
The Branch of Magic
 

1

400
The Mangler
 

2

450
The Conjurers Friend
 

1

 

5

800
Staff Of Magic Mastery
 

3

 

5

-1

800
The Enlightener
 

1

 

1

 

5

-2

850
Wand of Lesser Might
 

1

 

1

 

5

850
Wand of the Mind
 

1

 

5

Psionic Blast x2
900
Uhl Khakhaas
 

1

 

1

 

1

-1

900
Wand of Infinite Magic
 

2

 

10

-2

1200
Wand of the Mage
 

2

 

1

 

10

-1

1250
The Mighty Wand of Zod
 

1

 

1

 

10

-2

1650
Flaming Staff
 

5

 

10

-1

Flaming
1650
Word of God
 

2

 

1

 

1

Holy Weapon x4
1750
Golden Staff of Sharee
 

5

 

2

 

2

2700
Wand of Ultimate Might
 

2

 

10

Disintegrate x2
3050
Wand of the Beast
 

1

Phantom Beast x4
3200
Staff of Horus
 

2

 

1

 

20

-4

9100
Theodores Liberator
 

6

 

20

-4

Creature Binding x4
List of Conditionally-Available Items
Edit
The table below lists the 143 items might turn up in a treasure pile, if the wizard has the right spellbooks.