Attack Strength is the measure of potential

 damage that an attack can inflict. For "single target" attacks (i.e. conventional Physical Damage) this is generally the maximum amount of

 damage that the attack can inflict overall. For Area Damage, it is the maximum amount of

 damage that may be inflicted upon each individual

 figure of a target unit, although this is also limited by the current

 hit points of those figures.
The strength of an attack is usually defined by the rules governing that attack (e.g. for Melee Attacks the Attack Strength is equal to the

 Melee attribute of the unit making the attack). In turn, the Attack Strength determines the number of attack dice used during an Attack Roll.

The Attack Strengths of a unit's basic attacks (Melee and Ranged) are indicated by rows of icons in the unit statistics window. For Special Attacks granted by a Unit Ability (

Thrown,

Fire Breath,

Lightning Breath,

Doom Gaze), the Attack Strength is shown instead as a number after the ability name. For spells and other effects, the Attack Strength is generally only listed in the description or help text.
Imagine a fearsome minotaur swinging its great axe, a huge red dragon exhaling fire, and a humble spearman thrusting his weapon forward. How likely is it that all three are going to cause the same amount of destruction? Not very likely. Are they even comparable? Possibly, but damage is a compound function of many factors that is not easy to condense into a single statistic. On the other hand, potential damage may be much more simpler to define. In the above example, for instance, it should be fairly easy to determine an order from highest to lowest damage potential.
Granted, not all situations in a fantasy themed game will be this clear-cut. Still, the concept is sound, and can be easily implemented as the first step of a damage calculation mechanism. This is exactly what the developers of many games, including Master of Magic, have decided to do. As such, in this particular game, every form of attack starts off with defining the Attack Strength, the attribute nominated to represent potential damage.
In most games simulating combat situations, and especially in turn-based games, each action, or attack, takes a certain amount of time to perform. The actual amount need not be defined, it is only necessary to be able to draw comparisons. To follow with the example, the spearman may eventually be able to bring down a tree with his thrusts, it will just take him forever to do so. Therefore, the Attack Strength should ideally reflect the damage that can be done in a specific time frame.
Barring some special factors, this usually means that the system can be simplified such that the Attack Strength represents primarily the size of the weapon being used (or that of a body part, in the case of otherworldly creatures). This notion is generally followed by Master of Magic, with factors such as weapon quality and experience of the wielder being applied as separate bonuses.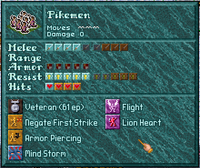 Attack Strength serves a singular purpose in the game: it determines the amount of dice used for Attack Rolls. It is generally made up of two parts: a base strength, that is set out by the rules, and an enhancement component, that comprises of situational modifiers. A prime example of this would be Combat Instant damage spells that can be infused at the time of casting, resulting in a situationally higher Attack Strength based on the extra

 Mana spent.
The system used for a unit's Attack Strength is slightly more ambiguous, as some modifiers (most prominently those conferred by

Experience Levels and Hero Abilities) are displayed as part of the base Attack Strength. This can be observed because the unit statistics window actually uses separate icons for representing enhancements and reductions to a unit's Attack Strength and other combat attributes. These icons have a golden background (

) to represent a bonus, dark grey background (

) for a penalty, and darkened gold (

) for a combination of the two.
As noted already, Attack Strengths related to a unit's basic attacks (Melee, Ranged) are represented by a row of corresponding icons in the unit statistics window; and a single icon preceded by the numerical value in the combat unit display (upper right corner when mousing over a unit in battle). For abilities granting Special Attacks (

Thrown Attacks,

and

Breath Attacks,

Doom Gaze), the Attack Strength is represented by a number following the icon and name of the ability. Finally, for other effects, such as spells and the

Immolation ability, the Attack Strength is part of the description or help text of the effect.
Attack Rolls
Edit
An Attack Roll is a series of "d10 rolls" (random numbers between 1 and 10) used to determine the "raw" (before mitigation)

 damage of an individual attack. It is generally the second step of the process for dealing damage, which is then followed by determining effective

 Defense and performing

Defense Rolls.
Each "die" of an Attack Roll has a base 30% chance to succeed, however, only spell damage (for which the success chance can not be modified), and the attacks of inexperienced or low-tier units actually use this value in practice. Otherwise, it is influenced by another unit statistic called

 To Hit, which modifies each die's chance to succeed in 10% increments.
The result of an Attack Roll is the sum of successes. This is always a number between 0 and the Attack Strength, which is then carried over to the next step of damage resolution (mitigation).

 Multi-figure units and Area Damage spells perform multiple attacks at the same time, and each of these is handled as a completely separate procedure. It is important to realize that this means that the target is allowed separate

Defense Rolls against each individual attacking

 figure, and that each target

 figure defends separately versus Area Damage. The same is true for Special Attacks and
Hasted units: rather than adding the Attack Strengths together (or doubling them), separate attacks are performed with the component strengths, even if the attacks were to occur in the exact same combat stage. This maintains the linearity of the damage reduction granted by

 Armor.
0 Base Attack Strength
Edit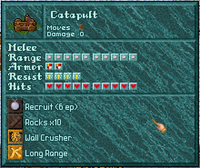 There are a few units in the game (mostly Settlers and war machines) that have zero base melee Attack Strength. Furthermore, all units that do not possess a Ranged Attack (or have exhausted all of their

ammunition) technically abide by the same rules with respect to Ranged Attack Strength.
These units are unable to conduct the indicated attack in battle. It may seem that they can (for example the Melee Attack command may still be given), but the unit will deal no damage or deliver any added effects (i.e. Touch Attacks) with the 0 strength attack. The distinction is mainly relevant for the AI, as it will never move or attack with such a unit, to the point of even ignoring some Special Attacks that could still work (e.g.

Chaos Channels Settlers with

Fire Breath,

Chaos Spawn or Barbarian Spearmen with

Weakness).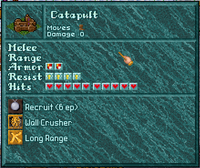 In addition, when a unit's base Attack Strength is 0, this results in the attribute not receiving any benefit from any effect that would normally increase it. For effects that provide a composite bonus (i.e. enhance multiple attributes at the same time, such as

 mithril weapons or

Black Channels), the rest of the effect will still apply, only the part improving the 0 base Attack Strength is ignored.
This means that no matter how many enhancements are stacked onto a 0 base Attack Strength, or how high their bonuses are, the unit will still not be able to do damage with the corresponding attack. It will simply skip the phase in which it would deal this damage, although in the case of

 0 Melee Attack Strength, some abilities may still deal damage elsewhere in the Melee sequence. This can be quite important for some types of Special Attacks (see the next section).
Reducing Attack Strength To 0
Edit
A different, but practically similar situation arises when a unit's Attack Strength is reduced to 0 by magical means. The
Mind Storm spell is most effective at accomplishing this; but

Black Prayer and

Weakness can also play a part; and situationally

True Light,

Darkness, and their overland versions.
As with a base 0 Attack Strength, a modified 0 will also disable the damage dealing phase of the relevant attack sequence. This has a profound effect on units with certain types of Special Attacks, namely Touch Attacks and Gaze Attacks. So much so, that this has been marked as a bug and changed in the Unofficial Patch 1.50. As such, players using this patch (or a later one) can safely ignore the rest of this section.
Touch Attacks are a type of Special Attack that is affixed to other types of attacks. They are executed alongside those attacks for added effect, and are completely disabled if the relevant attack skips the phase in which it would deal damage. For instance, reducing the

 Melee Attack Strength of Nightblades (a unit with an innate

Poison Touch ability) to 0 effectively negates their poison attack as well. It will never be executed, even if the unit is forced into a melee Counter Attack.
This effect is even more severe for units with Gaze Attacks, which are short range attacks executed only as part of a Melee attack sequence. An undocumented feature of these attacks is that they are actually delivered as an added effect, usually to an otherwise hidden short range attack, that has an Attack Strength of 1 (more on this below). While this hidden attack is largely irrelevant in most situations, reducing it to 0 or less will essentially disable the entire Gaze Attack: the added effect will never trigger. The

Night Stalker probably provides the best example of this situation, as its otherwise rather threatening

Death Gaze can be effectively negated by a Common

True Light spell.
The main difference between a modified and a base 0 Attack Strength is the fact that a penalized attribute can still be enhanced back above 0, removing the obstacle that bars the use of both normal and Special Attacks. In the Night Stalker example above, casting

Darkness would immediately restore the creature's ability to use its Gaze Attack. This would not be the case for a base 0 Attack Strength.
Melee Strength
Edit

By far the most common type of attack in the game is the Melee Attack. Nearly every unit in the game possesses a Melee Attack Strength (referred to in the Manual as simply Melee Strength), and this is listed as one of the unit's main attributes in the unit statistics window.
Melee Attack Strength is generally represented as a row of sword icons, with the number of icons corresponding to the Attack Strength. The combat unit display in battles uses a condensed representation instead, showing only a single icon and the current strength as a numerical value preceding it.
The base icons themselves are different to represent the quality of the unit's weapons. Furthermore, as previously mentioned, the unit statistics window also differentiates between base Attack Strength and enhancements, which results in a total of four different icons for each particular weapon quality.
Weapon quality is always set at the time the unit is created, and can not be modified afterwards. Mercenaries are always created with normal weapons, regardless of the capabilities of the hiring wizard or their capital city.
Normal Weapons
Edit
The icons

,

,

, and

are used to represent normal weapons. This is the weapon quality that the rules are based on, and thus they have no special modifiers. The

Weapon Immunity effect provides enhanced protection against regular attacks made by Normal Units with this weapon quality. However, the attacks of Heroes and Fantastic Units bypass this immunity by default, despite being represented by the same icons. In fact, the Melee Attack Strength of Heroes and Summoned Units will never be represented by any other weapon quality icon. Normal Units turned into fantastic ones (e.g. via

Black Channels or

Chaos Channels), on the other hand, will keep the weapon quality they were originally created with.
Magical Weapons
Edit
The icons

,

,

, and
represent magical weapons. These weapons have a hidden To Hit modifier of

 +1 (not displayed in their statistics), which makes each dice of an Attack Roll 10% more likely to succeed. This will affect all attacks that are made with basic weapons (

 Melee,

 Ranged Missile,

 Ranged Boulder), but not special or magical attacks (

 Ranged Magical,

 Thrown, or

 Fire Breath). The unofficial Insecticide patch changes this behaviour to add this hidden modifier to

 Thrown attacks as well (also applies to the higher quality weapons), but not to the other two attack types.
Units created by a Wizard with the Alchemy retort, and units created in a town with an Alchemists' Guild, will possess magical weapons by default. However, this can be overridden by the special materials listed below.
Mithril Weapons
Edit
The icons

,

,

, and

represent mithril arms and armor. In addition to providing the same (hidden)

 To Hit bonus that magical weapons do (see above), mithril armaments also grant a +1 bonus to the unit's Attack Strength and

 Defense. The Attack Strength benefit applies to all attacks made with weapons: it affects

 Melee,

 Missile,

 Boulder, and

 Thrown Attacks (for which there is still no

 To Hit bonus in v1.31); but does not benefit

 Magical Ranged Attacks or

 Fire Breath. As noted in the previous sections, units with a 0 base Attack Strength will not receive the corresponding enhancement (but will still gain the increased

 Defense).
Two criteria need to be met for a unit to be created with mithril weaponry: the town in which it is produced must have an Alchemists' Guild; and its catchment area must contain a tile with the Mithril Ore resource. Furthermore, this bonus does not stack with the next one, Adamantium, and will instead be overwritten by it.
The option to use special materials for crafting the equipment of Normal Units is only available to those races that can build an Alchemists' Guild. No other unit can ever have Mithril or Adamantium weapons. On the other hand, magical weapons may be available to any race, as it is one of the perks granted by the Alchemy retort. The retort does not, however, function as an Alchemists Guild, and does not allow the use of special materials for weaponry even if the required resource is present near a Town.
The requirements for using these metals is checked at the time the unit's production is finished. Thus, if the Alchemists Guild is destroyed in the meantime, the unit will be created with

 normal weapons instead. The same thing will happen if the resource itself is destroyed (by

Raise Volcano),

Transmuted (only applicable to Mithril Ore), or the tile containing it falls prey to Corruption. The destruction (by

Raise Volcano) of resources is unfortunately irreversible in game version 1.31, which significantly increases their strategic value.
Adamantium Weapons
Edit
The highest quality weapons in the game are made out of Adamantium, and are represented by the

,

,

, and

icons. They provide the same (hidden)

 To Hit bonus as the previous two weapon types. In addition, just like Mithril, they also increase both the Attack Strength and

 Defense of their wielder, except the magnitude of these bonuses is +2 for Adamantium. In all other respects the enhancements are identical, and Adamantium overrides Mithril in those cases where both would be available.
The criteria for creating units with Adamantium equipment is also similar: the town in which the unit is created must have an Alchemists' Guild, and its catchment area must contain a tile with the Adamantium Ore resource. The rules regarding the removal of either criteria are also the same as described above.
Ranged Attack Strength
Edit
Ranged Attacks are the second most common type of attack in the game. They are sub-divided into three categories, each with their own perks and conditional modifiers. Each of these (and the three Special Attacks below them) are mutually exclusive due to technical reasons (their strength and type are stored in the same variables by the game). Thus, no unit can have more than one type of ranged attack.
Ranged Attack strength is displayed as a separate attribute in the unit statistics window, with its own dedicated row of icons (or single icon and numeric value in the combat unit display). However, in battle, this is only visible as long as the unit still has

Ammunition left to fire. Once it is exhausted, Ranged Attack Strength will disappear from the unit for the remainder of the battle, and the rules for 0 base Attack Strength apply (the unit can't make any more ranged attacks).
Weapon quality is not represented in the ranged icons, it has to be deduced from the melee icons. Instead, the ranged icons depict the Ranged Attack Type, in addition to using the same modified backgrounds for base, enhanced, and weakened statistics, just like the other attribute icons. However, for weapon-based ranged attacks, weapon quality does apply, as noted in their sections below.
Ranged Attack Strength may be effectively negated by the
Invisibility effect, as no Ranged Attacks can be performed against an Invisible unit unless the ranged attacker has

Illusions Immunity. The same is true for armies besieging a town with

Wall of Darkness: no Ranged Attacks can be made against the units inside. In addition, the

Large Shield ability increases a target's

 Defense against all types of Ranged Attacks.
Ranged Missile Attacks
Edit
Ranged Missile Attack Strength is represented by a row of the bow icons:

,
,

, and

. There is also one unit in the game (Halfling Slingers) for whom this Attack Strength is represented by the boulder icons instead (see the next section). However, the Slingers' attacks abide by the rules for Ranged Missile attacks in every other respect.
Ranged Missile weapons benefit from all of the effects of the various weapon qualities, including increases to Attack Strength where applicable. However, Ranged Missile attacks also suffer

 To Hit penalties if the attack distance is more than 2 tiles, and units with

Missile Immunity defend against them as if they had

 50.
Many spells and abilities that affect Melee Strength also affect Ranged Missile Attack Strength. On the other hand, the

Warp Wood spell is designed specifically for use against Ranged Missile attackers: it destroys all of their

Ammunition, thus nullifying their Ranged Attack Strength completely.
Ranged Boulder Attacks
Edit
Ranged Boulder Attack Strength is represented by a row of the rock icons:

,

,

, and

. The Ranged Missile strength of Halfling Slingers is also confusingly represented by these icons, however, their attacks in fact use the rule set for Ranged Missiles (see above).
Ranged Boulder Attack Strength benefits from the enhancements granted by weapon quality, and these attacks suffer from

 To Hit reductions for distance, just like

 Missile attacks. However, there are no immunities against this type of attack, and boulders are not subject to any spell affecting

Ammunition either. Similarly, only a portion of the effects that apply to Attack Strength will affect Ranged Boulders, it is best to consult the relevant article or the table below to find out which ones do or do not.
Ranged Magical Attacks
Edit
The longest range attacks in the game are performed by magic users. Ranged Magical Attack Strength is represented by a row of the fireball icons:

,

,

, and

. Throughout this wiki, the

icon is also used to represent the Attack Strength of both spells, and certain abilities that execute spell-like attacks, all of which deal damage that is magical in nature.
Magical Ranged Attack Strength is not affected by weapon quality, but in turn the attacks suffer no penalties for range either. Most effects that increase Attack Strength are invalid with respect to Ranged Magical Attack Strength, making this the most difficult basic attack in the game to improve.
Units possessing

Magic Immunity defend against Ranged Magical attacks as if they had

 50. In addition, the spells

Resist Elements and

Elemental Armor grant a

 Defense bonus against all Ranged Magical attacks except for those performed by Zaldron the Sage and Aerie the Illusionist.

Bless and

Righteousness also affect a large portion of these attacks, with the latter providing the same effect as Magic Immunity. To find out which attacks are affected, please see the article on Ranged Magical Attacks.
Finally, the Combat Enchantment

Mana Leak has an adverse effect on all units possessing Ranged Magical attacks, as it decreases their

Ammunition by one (or

 Mana by 5) every turn it is in effect, until the units run out completely (and thus be unable to perform any more ranged attacks).
Short Range Attack Strength
Edit
There are three groups of Unit Abilities in the game that either use Attack Rolls to determine their

 damage, or have such a component that the entire ability depends on. Thus, Attack Strength is a relevant factor for all of these abilities. Indeed, many effects that increase or decrease a unit's Attack Strength also affect one or more of these abilities in a similar way. Each group is discussed below separately.
Thrown Attacks
Edit
There are exactly 7 units in the game that possess the

Thrown ability. This enables these units to execute a short-range attack every time they initiate melee against an enemy unit. This only works during the Melee Attack sequence, and only when making voluntary attacks (i.e. is not executed during a Counter Attack). However, it does allow the unit to engage

Flying opponents in melee, and does not use ammunition like regular Ranged Attacks.
The Attack Strength of the Thrown ability is listed as a numerical value after the name of the ability in the unit statistics window. Throughout this wiki, the

icon is also used to represent Thrown Attacks and their Attack Strength, in an attempt to signify the similarities between them and other attack types. Thrown attacks are not shown in the combat unit display in battle.
In the vanilla 1.31 game version, Thrown Attacks are partially affected by weapon quality: they do not get any

 To Hit bonus, but do benefit from increases to Attack Strength (i.e. from

 Mithril and

 Adamantium equipment). This is changed in the unofficial 1.40 and later patches; players using these will find that Thrown Attacks now receive the full benefits of weapon quality.
Many other effects also affect Thrown Attacks, but there are none that are tailored towards them specifically. However, it is worth noting that Heroes wielding an Axe are able to apply most of the weapon's effects (with the exception of any

 To Hit bonus, unless one of the unofficial patches is in use) to their Thrown Attacks in addition to their Melee Attacks. This does mean that any Attack Strength bonus granted by such an Axe will also apply to the Thrown ability, and is not the case if the Hero wields any other type of weapon.
Thrown Attacks are not affected by either

Weapon,

Missile, or

Magic Immunity. The only conditional effect that does offer some protection against them is the

Large Shield ability (although in the 1.50 or later patches Weapon Immunity also protects against Thrown Attacks made without magical weapons).
Breath Attacks
Edit
There are two different types of Breath Attacks in Master of Magic, granted by the abilities

Fire Breath and

Lightning Breath respectively. 12 units possess one of these by default, but Fire Breath may also be conferred onto any normal unit by the

Chaos Channels spell. The only limitation is that the unit can not have a default ranged or breath attack already, and Fire Breath is only one of three effects that are chosen randomly. As noted below however, this type is Breath Attack is significantly different than the innate ones with respect to its Attack Strength.
The Attack Strength of any Breath Attack is displayed as a numeric value after the name of the ability in the unit statistics window. It is not shown at all in the combat unit display during battles. On this wiki the

icon is also used to represent Breath Attacks, their respective Attack Strength, or modifiers thereof. The

icon may also be used, however, there is only a single creature in the game that can ever have a Lightning Breath attack.
Breath Attacks are short range attacks that can only be performed by a unit when it is initiating a Melee Attack. They are not executed on Counter Attacks. However, there are otherwise no limits to their use, and they also enable

Ground units to engage

Flying enemies in melee combat.
Breath Attacks are not affected by weapon quality at all, and most effects that enhance Attack Strength are also invalid for them (with

Experience Levels being the most notable exception in the case or Normal Units and Heroes). They are considered a magical source of damage, and units possessing the

Righteousness or

Magic Immunity effects defend against them as if they had

 50. The conditional effects of

Bless,

Resist Elements,

Elemental Armor, and

Large Shield also apply against all Breath Attacks.
Fire Breath additionally triggers a defender's

Fire Immunity if it possesses this ability (granting it the same

 50 that similar immunities do), however, Lightning Breath is not affected by this. In addition, Lightning Breath is Armor-Piercing, meaning that it halves the defender's

 Defense score before the

Defense Roll is made. This happens after other modifiers are taken into account, but before immunities: thus the

 50 effects are unaffected, but in lieu of these, the total

 Defense is halved. City Walls, if any, also grant their full bonus despite this attribute.
Chaos Channels Fire Breath
Edit
The

Fire Breath granted by the

Chaos Channels spell is actually not identical to the innate ability possessed naturally by units. Although the mechanics of the attack are the same, the Attack Strength of this type of Breath Attack is not improved by any effect that would benefit regular Fire Breath.
In fact, in version 1.31 of the game, no modifiers to Attack Strength, whether positive or negative, will ever apply to this type of Breath Attack. However,

 To Hit modifiers valid for

 Breath Attacks do work, and may still improve (or reduce) the average damage output.
In games without the unofficial 1.40 patch, this Fire Breath effect also overrides any natural

Thrown ability that the target may possess, which is almost always a bad trade-off.
Gaze Attacks
Edit
Gaze Attacks are peculiar short range abilities that are either

 Resistance-based effects, or ignore the target's defenses entirely. However, due to their technical implementation, they actually rely on a physical attack for their effects to trigger at all, much like the added effects of Touch Attacks. For the

Chaos Spawn, this can be accomplished by its

Doom Gaze; but for units with single gaze abilities, the developers have decided to add an otherwise hidden short range attack to achieve this.
Gaze Attacks may be performed during any kind of melee engagement, regardless of whether the unit is initiating or countering such an attack. However, the timing is slightly different between the two, and the attacking unit always gets to perform its short range attack (if any), before the defender can use its Gaze Attack(s).
Gaze Attacks can be used by

Ground units to engage

Flying opponents in melee, and have no limit on the amount of times they can be used in a battle. However, unlike every other Attack Type, they may not be performed twice during a single run of the attack sequence as a result of the
Haste spell.
There are only 4 units in the game that possess a Gaze Attack, and such an attack can not be added to other units via magic spells either.

Night Stalkers have a

Death Gaze,

Basilisks and

Gorgons have a

Stoning Gaze, and

Chaos Spawns have both of these with an additional

Doom Gaze. This last ability also enables the other gaze effects to be used as added effects with it, and has a base Attack Strength of 4. However, for all of the other units, Gaze Attacks are implemented through a hidden short range attack that has a base Attack Strength of only 1.
The existence of this undocumented attack has several consequences, the most important being that it provides a method to disable the associated gaze effect completely by way of reducing the ranged Attack Strength to 0. This is not necessarily an easy task though, as there are only a handful of effects that allow this value to be modified. This is also the reason why this attack goes mostly unnoticed, it is just as difficult to raise its strength, this circumstance being mostly limited to battles in, or around, Magic Nodes.
The Unofficial Patch 1.50 also removes this particular consequence. In games played with this patch, Gaze and Touch Attack effects are no longer disabled if the relevant Attack Strength is 0, which may make it significantly less useful to apply negative modifiers to this attribute.
There are only 3 spells capable of reducing a Gaze Attack Strength:
Mind Storm (a single target spell that can not be cast on units with

Illusions Immunity),

Black Prayer (a Combat Enchantment affecting all enemy units), and

True Light (a Combat Enchantment hindering only

Death creatures). Night Stalkers may be affected by the last two spells, whereas the other Gaze Attack units can only fall prey to the first two effects. However, their hidden attacks may also be enhanced by Node Auras, which will never affect the Night Stalker.
It is also possible to create or encounter Undead versions of all Gaze Attack creatures except the Night Stalker. These monsters no longer benefit from their respective Node Auras (or

Chaos Surge in the case of Undead Chaos Spawns), and will instead be affected by the same spells and effects that work on Night Stalkers. In addition, they may also benefit from

Black Channels.
Enhancing the hidden attack of the Night Stalker or the Basilisk can only be marginally useful, as both of them are

 Single-figure units, and the achievable increase is minimal in comparison to their base damage. On the other hand, Gorgons have

 4 Figures and a formidable

 To Hit bonus to begin with, and the Chaos Spawn's

Doom Gaze does damage that can not be blocked; both of which present opportunities for meaningful enhancement.
Node Auras (

Nature for Basilisks and Gorgons, and

Chaos for Chaos Spawns) can increase the Attack Strength of both the hidden short range attacks and the Doom Gaze. The Global Enchantment

Chaos Surge also benefits the Doom Gaze. Finally, as mentioned above,

Black Channels may be used on the Undead versions of these units, along with

Darkness and its overland equivalents. Unlike Node Auras, these spells are not limited to specific map tiles, and the combination of the two provides the same level of enhancement.
In terms of a target's conditional

 Defense modifiers, the hidden short range components are treated as equivalents to

 Magical Ranged Attacks associated with the Realm that the ability itself belongs to.

Stoning Gaze is

Nature,

Death Gaze is

Death, and

Doom Gaze is

Chaos, albeit this last one is meaningless here as its

 damage can not be blocked or reduced by any effect, conditional or otherwise (unless the Attack Strength itself is reduced).

Resist Elements and

Elemental Armor work against the hidden component of Stoning Gaze;

Bless and

Righteousness are triggered by that of Death Gaze; and

Large Shield and

Magic Immunity protect against both.
It should be noted here that the undocumented attack does not actually have to do

 damage for the Gaze Attacks to work, it must simply be capable of doing so by having an Attack Strength of at least 1. That is, of course, unless the patch mentioned above is in play, in which case the Gaze effect will trigger either way.
Another side effect of the hidden short range attack is that it can be used to deliver Touch Attacks. The Chaos Spawn even has a

Poison Touch by default. Otherwise, the

Immolation spell can be used on any of these units to empower them with an Area Damage Touch Attack. This plays onto the strength of Gaze Attacks as it is a Physical Damage component (i.e.

 Defense-based), that is also more effective against

 Multi-figure units, just like the Gaze Attack effects. However, this again does not apply with patch 1.50, as it disables the execution of the

Immolation effect on all types of ranged attacks (including short range).
Spell Attack Strength
Edit
Direct damage spells are also considered a form of attack and follow the same rules for dealing their

 damage. Their Attack Strength is listed only in their descriptions, help texts, and documentation accompanying the game (a table is also provided below). On this wiki, the flaming ball icon of Magical Ranged Attacks (

) is generally used to represent a spell's Attack Strength.
Direct damage spells can be divided into two general groups based on whether they deal "single target" or Area Damage. Attack and Defense Rolls are handled differently by the two groups, and the meaning of Attack Strength is extended for Area Damage attacks.
Single Target Spells
Edit
Single target damage spells follow the same principle as conventional melee and ranged attacks. That is,

 damage is applied to the

 Figures in the target unit one after another, with a new

Defense Roll being made every time the unit loses a full

 Figure's worth of

 Hit Points.
Many of these spells can be infused with extra

 Mana at the time of casting to drastically improve their Attack Strength. How much extra power can be gained depends on the spell, but the general formula is that 5 times the spell's basic cost can be spent on casting it in total (i.e. 4 times the base cost can be used to enhance). However, not all direct damage spells convert

 Mana into Attack Strength at the same rate, as noted in the table below.
All direct damage spells are blocked by

Magic Immunity, units possessing this ability from any source will never take any

 spell damage. The

 Defense bonus of the

Large Shield ability also indiscriminately applies against all attacks made by spells. There are also further conditional effects that may or may not apply, usually depending on the realm of the offensive spell. On the other hand, some of these spells have an added effect (or tandem Damage Type), that may temporarily reduce or entirely negate the target's

 Defense score while processing their damage.
Area Damage Spells
Edit
Area Damage spells differ from the previous group mainly in that they do not deal damage in a linear fashion. Instead, an Area Damage attack uses its Attack Strength to make a separate Attack Roll against each and every

 Figure of the target unit. The full Attack Strength is used for each of these attacks, meaning that the potential damage for these spells is multiplied by the amount of

 Figures in the target unit. Naturally, Area Damage is quite dangerous to

 Multi-figure units.
There are some caveats, however. Area Damage can not inflict more

 damage on a single

 Figure than that

 Figure has

 Hit Points, including any

 damage previously suffered by it. This strictly limits the

 damage of these spells to the

 Hit Points of the target unit. The

 Figures also defend against the attacks individually, and each

 Figure can use the full

 Defense score of the unit, including all applicable modifiers.
There are only two types of Area Damage used by the game, and both have a respective immunity. Immolation Damage is the area version of Fire Damage, to which

Fire Immunity applies; while Blizzard Damage is the area version of Cold Damage, and triggers

Cold Immunity. Both of these effects grant

 50 against their respective damage type. In addition, both types fulfil the conditions for the protection granted by

Resist Elements and

Elemental Armor.
These spells also deliver magical damage, which is nullified completely by

Magic Immunity. Against Immolation Damage, the Unit Enchantment

Righteousness also provides the same effect. Both types can also be defended against with the

Large Shield ability, but

Bless again only applies to Immolation Damage spells.
Finally, one of the spells delivering Immolation Damage,

Fireball, can also be infused with extra

 Mana to increase its Attack Strength, just like single target spells. All other Area Damage is of a fixed Attack Strength as noted in their descriptions and listed in the table below.
Immolation
Edit

Immolation is a hybrid special ability that combines several mechanics to achieve a unique effect. It can be conferred onto any unit in the game using the

Immolation spell. This grants the unit a special attack that is triggered the same way as a Touch Attack, meaning that it is affixed to any other type of attack that the unit makes (including other Special Attacks).
Immolation has a constant Attack Strength of 4 that can not be modified by any means, but at the same time it delivers an Area Damage attack instead of a conventional one. As such, the above section is fully applicable to describing this attack, and the Unit Enchantment is also listed there.
The unofficial 1.50 patch modifies Immolation such that it no longer triggers when executing Ranged Attacks, which also includes all three types of short range attacks. It is now only affixed exclusively to Melee Damage.
Table Of Attack Strength Modifiers
Edit
Below is a comprehensive table of Attack Strength modifiers. Icons with a dark background are used to represent any bonus that is not obtainable in practice without modifying the game in one way or another. This is usually a result of a limitation on the affected targets and the abilities that they actually have. These effects are included mainly for those who wish to mod the game without changing the underlying mechanics.
For example, the

True Light spell grants an Attack Strength bonus to every type of attack that an affected creature can make. However, it is only valid for units of the

Life realm, and these creatures exclusively can only ever have

 Melee Attacks in the original game. Because of this, the spell is only highlighted as providing a benefit for this single type of Attack Strength. However, since it would technically improve all others should a

Life creature possess any, these are listed with a dark background instead.
Effect
Magnitude
Affects
Notes
Experience
Regular
+1
Normal Units only, requires

20 Experience Points

Elite
+1 (total +2)
Normal Units only, requires

120 Experience Points

Champion
+1 (total +3)
Normal Units only, requires Warlord and

Crusade

Hero Levels
+1 (per level)
Heroes only (cumulative)
Equipment
Mithril
+1
Normal Units only, Mithril Ore + Alchemists' Guild
Adamantium
+2
Normal Units only, Adamantium Ore + Alchemists' Guild
Sword
up to +3
Heroes only, requires , , or equipment slot
Mace
up to +4
Heroes only, requires , , or equipment slot
Axe
up to +6
Heroes only, requires , , or equipment slot
Bow
up to +6
Heroes only, requires equipment slot
Wand
up to +2
Heroes only, requires or equipment slot
Staff
up to +6
Heroes only, requires or equipment slot
Flaming Weapon
+3
same as the weapon
Heroes only (requires

2 books

to enchant)
Giant Strength
Weapon
+1
same as the weapon
- Heroes only (requires

3 books

to enchant),
- Sword/Mace/Axe only (stacks with the spell)
Jewelry
up to +4
Heroes only, requires equipment slot
Abilities
Holy Bonus
+1 or +2
affects all friendly units
Might
+1 / level
Hero Ability
Super Might
+1.5 / level
Hero Ability, bonus is rounded down
Arcane Power
+1 / level
Hero Ability
Super Arcane Power
+1.5 / level
Hero Ability, bonus is rounded down
Leadership
+1 / 3 levels
- Hero Ability, bonus is rounded down
- affects all friendly Normal Units and Heroes
+1 / 6 levels
Super Leadership
+1 / 2 levels
- Hero Ability, bonus is rounded down
- affects all friendly Normal Units and Heroes
+1 / 4 levels
Unit Enchantments

Lionheart

+3
-

Giant Strength

+1
-

Flame Blade

+2
Normal Units and Heroes only

Berserk

doubled
-

Black Channels

+2
- Normal Units, Heroes, and Undead units only
- Turns Normal Units and Heroes into Undead
+1
Combat and Global Enchantments, Node Auras

High Prayer

+2
affects all friendly units

True Light

+1
only benefits

Life

creatures

Chaos Surge

+2
only benefits

Chaos

(or

Chaos Channeled

) units

Metal Fires

+1
- Normal Units and Heroes only
- does not stack with

Flame Blade

Darkness

+1
only benefits

Death

creatures and Undead
Chaos Node Aura
+2
only benefits

Chaos

(or

Chaos Channeled

) units
Nature Node Aura
+2
only benefits

Nature

creatures
Soorcery Node Aura
+2
only benefits

Sorcery

creatures
Negative Effects

True Light

-1
affects all opposing

Death

and Undead units

Mind Storm

-5
- single target,  

non-resistable


- does not work against Illusions Immunity

Shatter

set to 1
- single target,  

resistable

(no penalty)
- only affects Normal Units or Heroes

Warp Creature

halved
- single target,  

resistable

(at

-1

)
- only 1 of 3 possible effects

Warp Wood

set to 0
single target,  

non-resistable

Black Prayer

-1
affects all opposing units

Darkness

-1
affects all opposing

Life

creatures

Weakness

-2
single target,  

resistable

(at

-2

)